Ronda Rousey Joins WWE With Royal Rumble Appearance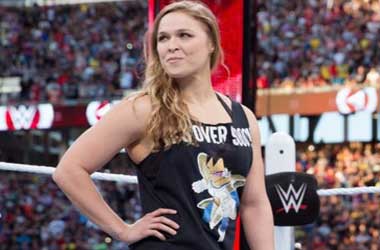 The WWE 2018 Royal Rumble was full of surprise appearances, from former wrestlers like Trish Stratus returning to new talent emerging like Ember Moon. But one surprise appearance that seemed to have the biggest impact on the night was that of former UFC Women's Bantamweight champion Ronda "Rowdy" Rousey.
Rousey took center stage at the Philadelphia Wells Fargo Center after the conclusion of the first ever Women's Royal Rumble match which was won by Japanese superstar Asuka. As per WWE tradition the winner of the match has the choice to challenge any champion to a match at WWE's flagship WrestleMania event.
After Auska was announced the winner she was shortly joined in the ring by the two current WWE women's champions, "Smackdown" champion Charlotte Flair and "Raw" champion Alexa Bliss when Rousey's now infamous theme music ( Joan Jett's "Bad Reputation") was played.
ESPN
The shocked crowed saw the former UFC star step into the ring, stare at all three women, and suddenly point to the WrestleMania sign that had been hanging from the Well Fargo Center's rafters the whole night. Rousey then proceeded to attempt to shake Asuka's hand which was met with an angry slap from the Japanese star.
Rousey then proceeded to ringside where WWE Chief Brand Officer Stephanie McMahon was sitting and proceeded to offer a handshake as well. McMahon carefully accepted and Rousey left the ring smiling. Rousey has not announced her retirement from MMA and continues to be on the UFC roster but made it clear that she is now fully committed to the WWE.
In a statement, Rousey said
This is my life now. First priority on my timeline for the next several years. This is not a smash-and- grab; this is not a publicity stunt. When I first met with Triple H, I told him, 'There are other things I can do with my time that'll make way more money, but I won't enjoy nearly as much'
Rousey's appearance at the Royal Rumble event had been rumored ever since it was confirmed that the former UFC star had signed a contract with the WWE. Rousey had tried to keep her appearance a secret by posting on social media that she was on the set of her latest movie "Mile 22" which is currently filming in Columbia. This was nothing but a smoke screen to hype her WWE debut.
UFC president Dana White also commented on the Rousey's appearance at the Royal Rumble stating that he is happy for the former champion. MMA fans have made it clear on a Twitter poll that they are not interested in the former UFC champions WWE career as they were not happy at the way she quit and left the sport after suffering her first two losses.
Categories:
Betting News
Posted on: 30th January 2018 by: Adrian Sterne