NFL, NFLPA To Review Panther's Treatment of Newton After Nasty Hit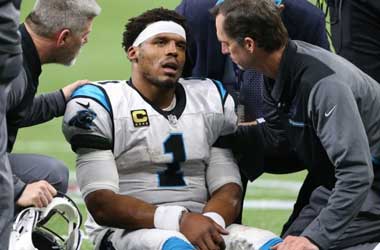 The Carolina Panther's suffered a 31-26 playoff loss over the weekend to the New Orleans Saints. While the loss was disappointing for the Panther's, they suffered another blow as their star quarterback Cam Newton took a nasty hit.
The official word coming from Carolina Panther's interim general manager Marty Hurney is that the team handled the medical treatment of star quarterback Cam Newton the right way. However this statement from Hurney will not stop both the NFL and the NFL Players Association (NFLPA) from conducting a formal investigation into the matter.
Both entities will be following a joint review to see if the Panthers correctly followed the NFL's concussion protocol after Newton took a vicious hit midway through the fourth quarter. If the joint review finds that the team did not follow the concussion protocols properly disciplinary actions will be taken by the league and they could also end up imposing a $150,000 fine.
The Fumble
Newton took a hard tackle from the Saints defender David Onyemata during the game and spent time on the ground after the hit. Team doctors evaluated the former league MVP on the field where he was then escorted to the sidelines. Newton spent one play out of the game where he was seen pointing to his right eye and seemed to stumble to one knee. Newton came back into the game on the Panther's next possession but failed to lead the team to a win and the Panthers lost to the Saints 31-26 ending the team's season.
The official statement by Hurney and the Panthers is that Newton took a hit and complained that his visor had poked him in the eye. Newton was then taken to the team's medical tent to be checked for a concussion which he did not have. However many believe that due to the severity of the hit that Newton took, he should have been taken back into the locker room for further evaluation.
This isn't the first time that the Panthers have come under fire for the treatment of their star player. In 2016, Newton took a bad hit against the Denver Broncos but continued to stay in the game. An investigation was carried out by the NFL and NFLPA and the Panthers were cleared of any wrong doing.
The NFL and players association have been tightening down protocols for concussion injuries after former players filed a lawsuit against the league for not doing enough to protect players from concussion injuries.
If you looking to make a bet on the next Carolina Panthers game why not have a look at the best American sportsbetting sites.
Categories:
Betting News
Posted on: 10th January 2018 by: Adrian Sterne