Ladbrokes Coral To Be Taken Over By GVC In A Deal Worth £4 Billion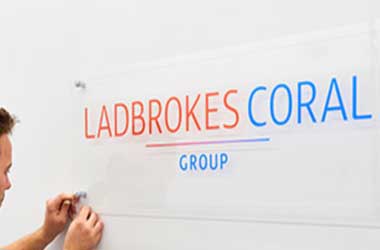 A takeover deal between high street bookmaker Ladbrokes Coral and GCV has been agreed to by both sides.
The deal, which was accepted by Ladbrokes Coral's board of directors, is reportedly worth up to £4 billion and should be completed by late first quarter or early second quarter of 2018.
GVC shareholders are expected to hold 53.5 percent of the combined GVC and Ladbrokes.
GVC chief executive, Kenneth Alexander, states that the takeover is a truly exciting prospect for the online gambling company.
The deal makes GVC one of the world's largest gambling groups as it has already taken over competitors such as Bwin, Sportingbet, PartyPoker and Foxy Bingo. Ladbrokes which had been in business since 1902, will no longer appear on the corporate masthead but will still remain as a brand.
In a statement, Alexander said
The creation of one of the world's largest listed sports betting companies, combining a portfolio of established brands, proven technology and leading market positions in multiple geographies, is a truly exciting prospect. In a dynamically evolving industry, the transaction creates an enlarged group with the scale, diversity, proprietary technology and management expertise to pursue many opportunities globally
The takeover follows previous failed attempts to merge between the two companies, with the most recent talks over the summer failing due to price disputes as well as uncertainty about the upcoming government gambling review. The gambling review will contain a decision on the maximum stake on fixed-odd betting terminals (FOBTs). The terminals are the lifeblood of Ladbrokes Coral's gambling revenue and are responsible for £1.6 billion a year in bets for bookmakers. These machines have been labeled the crack-cocaine of gambling. This nickname is mainly due to the speed these machines allow gamblers to lose money and the amount of people who use these machines who end up having a gambling problem or are at high-risk of forming one.
John Kelly, chairman of Ladbrokes Coral, states that the board believes that merger between the two companies will improve overall customer experience as well as support faster online growth. Kelly is confident in GVC's proven track record of creating shareholder value through the acquisition and integration of acquired businesses.
Kelly hopes that after the government review of the (FOBT) will favor Ladbrokes shareholders as well as those with GVC. When the merger agreement was announced, shares of Ladbrokes closed 1 percent higher on Friday while GVC shares closed 2 percent lower.
Categories:
Betting News
Posted on: 25th December 2017 by: Adrian Sterne