Canada Beats Sweden To Win 2018 World Junior Gold Match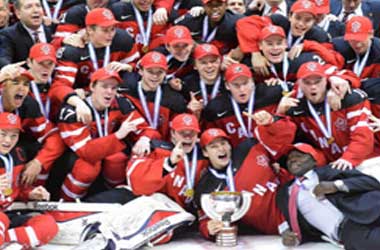 Canada and the United States were favorites to win the 2018 World Junior Ice Hockey Championships and Canada succeeded in living up to the expectations of its fans by clinching gold and securing the World Junior Championship. Canada played Sweden in the final and was clearly the better team in all departments.
A late goal in the third period by Tyler Steenbergen gave Canada the lead and eventually the win over a tough Swedish Team. The game had been close for the first two periods, with Canada scoring first when team captain Dillon Dube putting one past the Swedish keeper.
Sweden came back to tie the contest late in the second period and the scored stayed locked until Steenbergen's goal. Canada scored another goal in the final minutes of the game to make the final score 3-1.
TSN
Steenbergen's goal was his first of the tournament and turned out to be a match winner. The 20 year old was the only forward on the Canadian team who hadn't scored a goal the whole tournament. Steenbergen had been Canada's 13th forward and played the least amount of minutes of all the active players on the team.
Canadian head coach Dominique Ducharme had been claiming since the announcement of the final roster for this year's tournament, that he had built a team that was centered around depth. After the team's defeat at the hands of the United States last year, Ducharme devised a plan to make the team solid on four lines, instead of having star power on just one or two lines. The gamble paid off well for Team Canada and Ducharme said he thought it was fitting that the winning goal was scored by Steenbergen.
The loss was tough on the Swedish team who made it to their first finals since 2014. Team captain Lias Andersson was so frustrated after the loss that he threw his silver medal into the crowd of fans after the ceremony ended. The lucky fan who caught the medal was allowed to take a picture with Andersson and was given permission to keep it.
For Team Canada, this is the second time they have won the World Juniors in the last four years. The proud hockey nation had been on somewhat of a gold medal drought since winning the award for five straight years between 1993 and 1997.
Categories:
Betting News
Posted on: 8th January 2018 by: Adrian Sterne